It has been a long long day, I come home to read my blogs and one of my all time favs, and friend Summer is having a nice give away and I just have to post about it!! Her blog is awesome and she does the coolest giveways, I haven't one yet, but I sure try. Check it out and you will see for yourself!!
http://www.lemusingsofmoi.com/2010/04/swoon-worthy-giveaway.html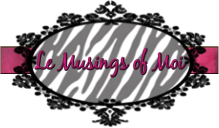 Talk to you all on the flip side. I am tired after being up at 4 am and being on the road for 6 hours today!!